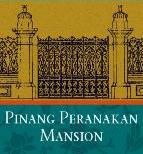 The
Peranakan Mansion
is a typical Chinese courtyard-style house now set up like a museum housing collections of crafts, china, jewelry, furniture and photographs. It's also a popular place for pre-wedding photography.
The collection of beadwork and embroidery is really impressive - Deborah, that's a bedspread hanging on the wall, embroidered totally in fine gold thread. These beading patterns could be contemporary.
The Nonya kitchen got me thinking about tiffin, so I took a lunch break at a nearby Indian vegetarian restaurant. Sizzling cauliflower 'manchurian', garlic naan with two different curry sauces, some pieces of vegetarian 'chicken' tikka and a mint lassi.
Have I said that this is food heaven? Every meal is spectacularly good. Janet, the Sichuan dumplings I had the day before!